UKZN Extended Learning (UEL)
UKZN Extended Learning (UEL), the wholly owned continuing education subsidiary of the University, completed its ninth year of operations in December 2020, having achieved a number of milestones since its establishment in 2012.
UEL is not funded by UKZN or any external entity, and has developed into a sustainable and viable business upon which some 500 people directly or vicariously depend for their livelihoods. UEL's reputation for adding value has cemented its growing status as a significant competitor and leading provider of short courses and career development initiatives in the country.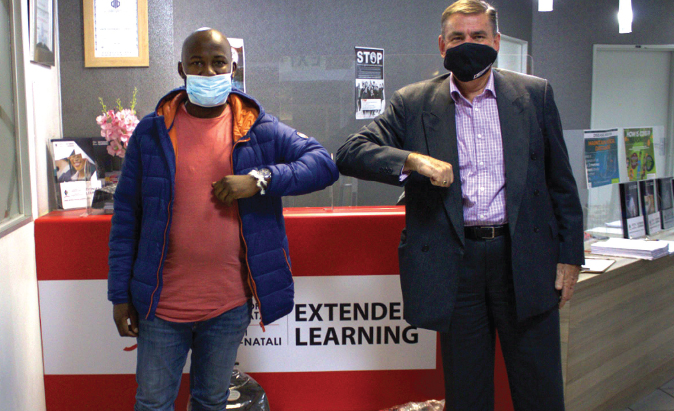 Embarking on Remote Learning: Configuring laptops for the KZN DOH HIV/AIDs Lay Counsellors to study Social Auxiliary Work at UEL.
The global COVID-19 pandemic and national lockdown in South Africa during 2020/2021 have had a significant impact on UEL, with commensurate financial distress. The company embarked on a cost reduction strategy from May 2020, and this has assisted in protecting its assets from the risks associated with the loss of earned revenue and profitability. Employee and stakeholder health and safety remain the most important priority in ensuring the company's ability to operate as a going concern.
The external audit in respect of the 2020 financial year confirmed UEL's unqualified audit status for the ninth successive year, which is testimony to the excellent oversight provided by the Board of Directors, and management and employees' commitment to ensuring its success in continuing to support UKZN as its shareholder.
During 2020, UEL continued to reach out to build strategic relationships and raise awareness of UKZN's brand amongst a wide range of stakeholders across the public and private sectors, working with clients across seven of South Africa's nine provinces and in other countries in the Southern African Development Community.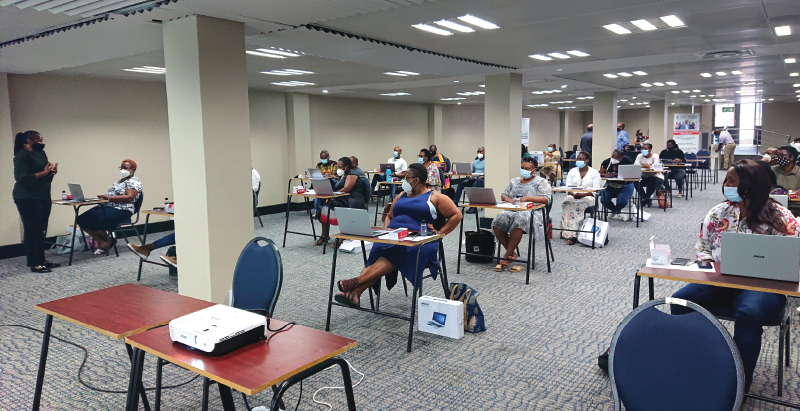 KZN DOH Deputy Director of Clinical Training Address – Ms. Lindiwe Ndlela talks to the HIV/AIDs Lay Counsellors about the importance of Social Auxiliary work to the KZN DOH.
Support for the development of the stakeholders and the communities in which UEL operates is a cornerstone of the company's culture and values. During the national lockdown in 2020, some 40 free webinars were offered, and were attended by a diverse group of around 2,000 participants, both local and international. Access courses to support school leavers and to recognise prior learning remain a priority in breaking down traditional barriers to furthering education and in supporting lifelong learning.
Given the transformation taking place in higher education and the challenging economic conditions in the country, particularly during the global COVID-19 pandemic, UEL has focused on its strategic plans for sustainability over the past two years. Its Board and Advisory Board members continue to engage with the University's management and executive leadership in this regard.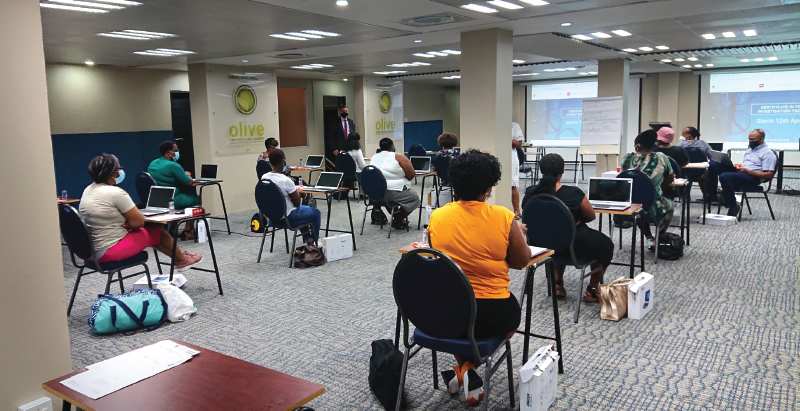 UEL held a social media creative competition in celebration of World Creativity and Innovation Week (WCIW). Pictured is the winner, Sthe Vamili Mingan with UEL's CEO, Mr. Simon Tankard, and the amazing hamper filled with goodies!
During 2020 significant progress was made in harnessing education technology as an enabler to offer blended and pure online courses across a broad continuum of client development requirements. Aligned with the University's broader strategic plan, this will continue. A further strategic area of focus is the design of customised courses with clients and interventions that have a direct, immediate, positive impact for delegates and their sponsoring organisations.
Public and private sector client organisations engaging with the company include the National Department of Home Affairs; National Lotteries Commission; Liberty Group; Transnet; Umgeni Water; Department of Cooperative Governance and Traditional Affairs (COGTA); Investec Protea Coin; Department of Health; Department of Basic Education; Gauteng Growth and Development Agency; Averda; RCL Group; Cataler; and the KwaZulu-Natal Department of Art and Culture.
UKZN is reviewing its strategy and changing its structures for continuing and executive education, and it is hoped that UEL will continue to have a role to play within the University in contributing to the national agenda by supporting capacity building, upskilling, personal development and job creation through organisations' increased productivity and competitiveness. UEL remains deeply committed to making a meaningful contribution to the development of people in South Africa through its various interventions, and to supporting the overall strategic goals of its shareholder, UKZN, by raising awareness of the value to be realised through engagement across all interest and stakeholder groups in the country and further afield.