University Teaching & Learning Office
As the central driver of teaching and learning support for students, Colleges, and Schools, the University Teaching & Learning Office (UTLO) launched a number of initiatives; including staff professional development, student support, and institutional development. UTLO is committed to enhanced quality through evidence-based initiatives and interventions while ensuring staff is appropriately rewarded for exceptional performance.
Teaching & Learning Excellence Award
UKZN Distinguished Teachers' Award for 2019
Simon Khoza is an Associate Professor in the School of Education in the College of Humanities (CHUM) with specialisations in Curriculum and Education Studies. The Committee noted that in his motivation for the award Professor Khoza provided evidence of the theoretical depth which underpins his teaching and research. This is also reflected in his choice and development of teaching materials, which demonstrate the interaction between student, teacher and society. Professor Khoza has served as the Academic Leader for Teaching Practice and Academic Leader for Research in the School of Education. His scholarship of teaching and learning includes numerous publications as well as keynote addresses and conference presentations. His ongoing scholarly endeavours scored highly, reflecting rigour in his postgraduate throughput and his ability to mentor peers and students.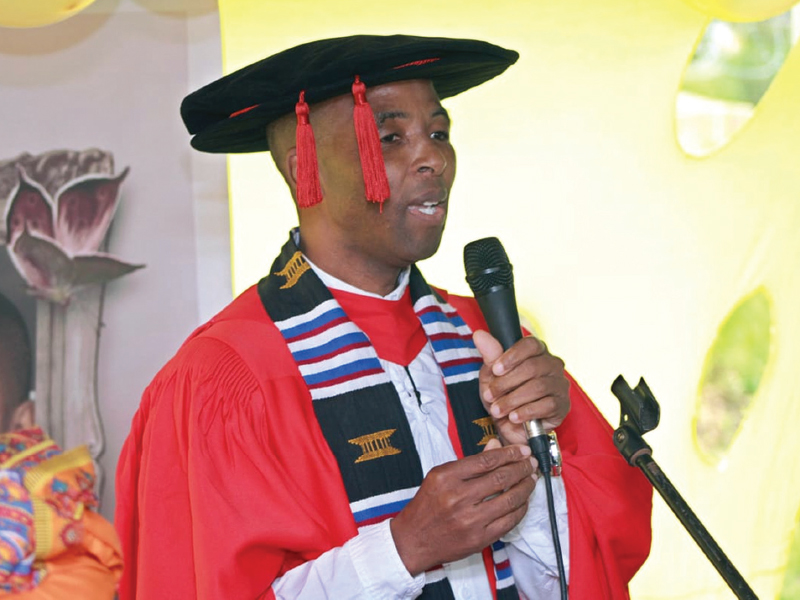 Professor Simon Khoza
Grants Acquisition
Kresge Student Success Grant
To strengthen UKZN's capacity to enhance student access and success, the Kresge Foundation, through the Siyaphumelela initiative, awarded the University a grant of UD$100 000 for three years for various programmes, including building institutional research and data analytics capacity.
One of the conditions of the grant is that UKZN will implement the AutoScholar Advisor as an evidence-led student success intervention, and share its experiences with other institutions in the Siyaphumelela network. The AutoScholar Advisor is an online artificial intelligence-based system that uses principles from Data Science and Artificial Intelligence to provide automated advice to staff and students in support of teaching and learning with higher rates of persistence and graduation.
Student Support Initiatives
Tutor Development and Training
In 2018, the Teaching & Learning Office in collaboration with College representatives, initiated a Tutor Training and Development Project with an online training and support programme for existing and aspirant tutors. In 2019, 45 tutors received certificates of completion, while the figure for 2020 stood at 153. In their evaluation of the course, the majority of the tutors indicated that they found it valuable and that their engagement was productive and contributed to the acquisition of new skills. All the tutors indicated that they would recommend the course to their peers and given the opportunity, would attend a similar online course.
Report Snapshot
The participants' positive evaluation of the course is reflected in their strong agreement with the following: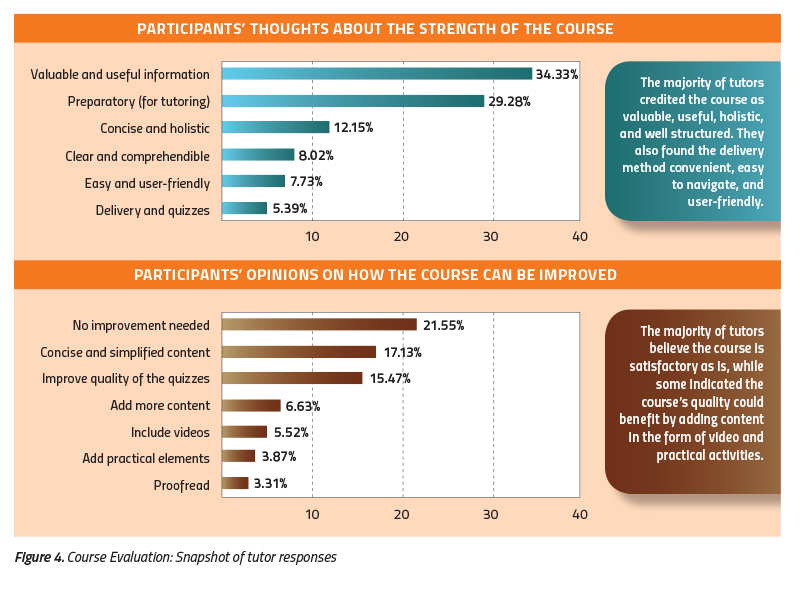 Teaching Development for PhD Students Programme
The UTLO hosted a workshop from 19 to 27 February 2020 to enhance the pedagogic competence of PhD students, focusing on strengthening and consolidating their knowledge of teaching, learning, designing and evaluating curricula and assessments in the higher education context, as well as developing their capacity as research supervisors.
PhD candidates were invited to attend a seven-day programme aimed at empowering currently enrolled PhD students with teaching skills so as to increase the number of staff with teaching capabilities and to enable them to make informed choices on whether to pursue an academic/teaching career in higher education. Due to high demand for the programme in 2019, not all PhD students who indicated interest could attend. The 2019 waiting list was used to invite PhD candidates to the 2020 session. The programme was attended by 20 participants, comprising 19 African and one white candidates, of whom 14 are male and six female.
Technology Enhanced Teaching & Learning
University Technology Enhanced Learning (UTEL) PROJECT
As part of Academic Monitoring and Support (AMS) in cooperation with College representatives, UTLO plays a leading role in professionalising technology-enhanced teaching and learning. UTLO collaborated with the Information and Communication Services (ICS) division to champion staff capacity development in digital teaching and instructional design, as well as equipping the UTEL facilities to support remote teaching and learning. The impetus given to digital transformation and the move to online learning during the COVID-19 lockdown saw academic staff quickly migrating to digital delivery of materials. UTEL reopened its facilities in April 2020 and saw a steady stream of users.
UTEL was initially established to redesign and repurpose the Westville studios and make them available to capture lectures, produce teaching videos and disseminate digital content through our Learning Management System (LMS) for students. This has been achieved and is ongoing. It currently provides a suite of technology-rich teaching and learning solutions and innovative pedagogies using e-learning, online learning, blended learning, and the flipped classroom approach.
Several departments also made use of UTEL's services to record and distribute: discussion panels; seminars; student and staff presentations; in-studio medical simulations; instructional videos; welcome videos; "live" Skype presentations, subtitling, and animation; PowerPoint presentations with voice-over and other high-level teaching and learning programmes. The migration to online teaching necessitated the production of a range of customised training materials.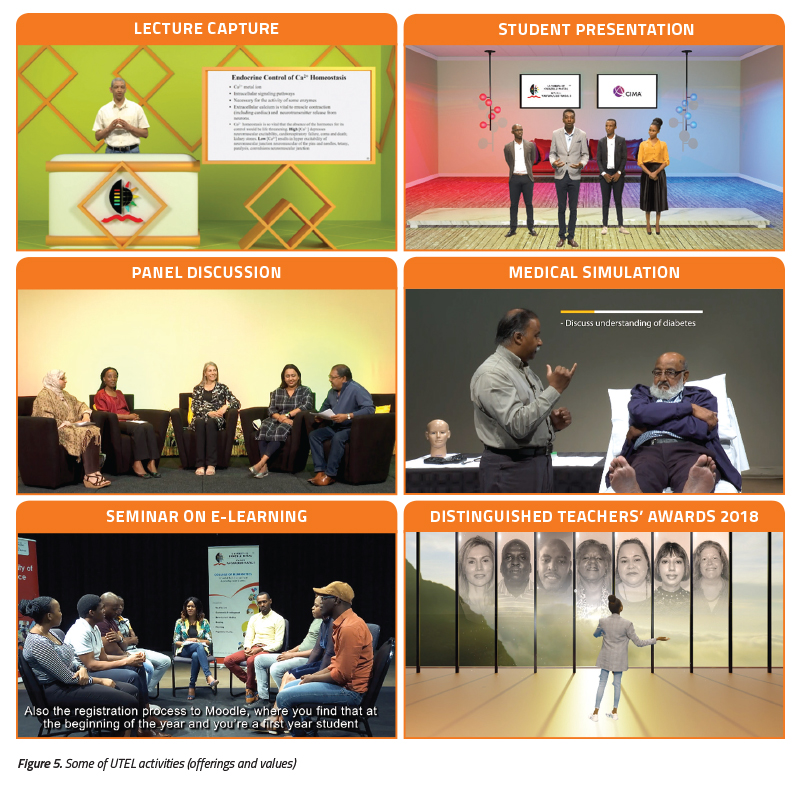 Project Offerings and Value
Lecture Capture
Although the University was closed during the periods of lockdown in 2020, and UTEL services had to cease, its staff reopened the centre as 'essential services' to provide facilities for recording and dissemination of digital lectures. Various lectures were recorded, edited, and delivered to students electronically during this period.
The Lecture Capture facility is used regularly by academic staff from all Colleges. UTEL creates its own unique virtual sets and places the academics in these sets using chroma key technology. The video is edited so that the final output contains a combination of interesting materials, angles, and shots to capture the student's interest. Recorded lectures (and other video productions) are uploaded to Moodle or sent to academic staff; some of whom distribute through personal accounts for their students to download.
Beyond standard lecture capture, UTEL produces other types of materials such as in-studio seminars and presentations by guest lecturers; some with a small studio audience. UTEL also records and facilitates live connections between the studio and other centres using multiple video monitors and sound feeds.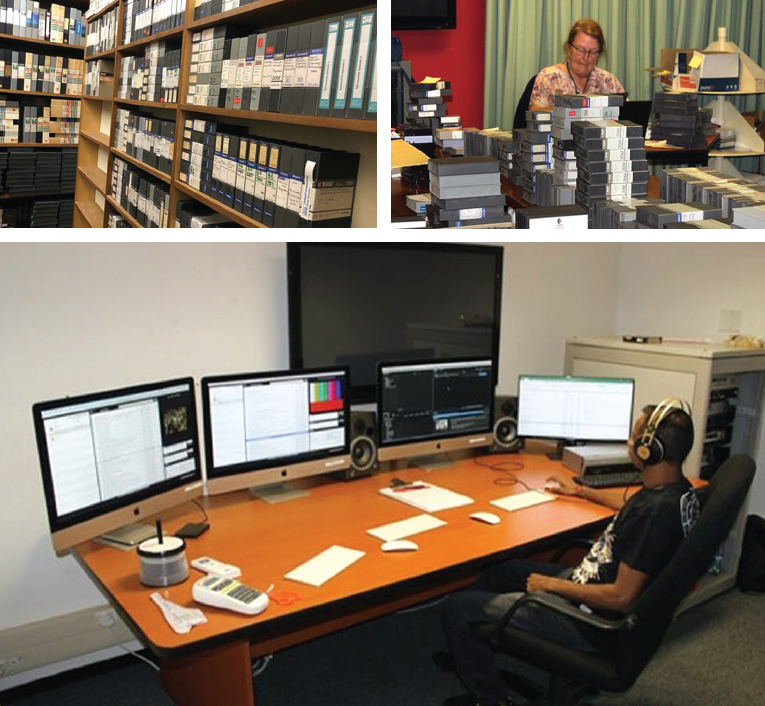 Top left: A section of the AV tape archive. Top right: Capturing details of the AV Collection's substantial cache of tapes for the catalogue. Above: Recording keywords and metadata while digitisation, editing, and formatting archive material.
Creating a Digital Archive (Archival and Digitisation)
UKZN has fallen behind with archiving and distributing this content digitally to students and teachers. Digitisation – one of UTEL's key objectives, creates the platform for the unit to convert video, photographic and audio materials from the various University archives into a digital format for online publishing. Digitisation is critical to guard against deteriorating media materials and to address poor accessibility to archives.
The process began with the indexing and catalogue of more than 3 000 tapes, CDs, and DVDs in UTEL's archive. The Library subsequently appointed UTEL to digitise 710 tapes from its various special collections and to create DVDs for preservation. This commenced in October 2019 and by June 2020, 233 tapes were completed for the Documentation Centre and 170 for the Campbell Collections.
This service was also used to salvage valuable historical recordings of University of Durban-Westville theatre productions. After capturing the materials, UTEL employed restoration and corrective processes before conversion into usable digital files. Many of these videos have been published on YouTube and have attracted significant interest.
UTEL installed EVO Shared Storage Server for collaborative video editing, project sharing, and digital formatting for dissemination, preservation, and storage of material. The digitisation project is set to become a highlight in UKZN's digital transformation, with UTEL's archival efforts playing a valuable role in preserving history.
Production of Teaching and Promotional Videos
UTEL operates two television studios; the smaller one for lecture capture and the larger studio for recording panel discussions using multiple cameras. This studio is also used for larger-scale teaching and demonstrations, such as student presentations, seminars, interviews, medical and technical demonstrations, international greetings, Vice-Chancellor's presentations, and various promotions.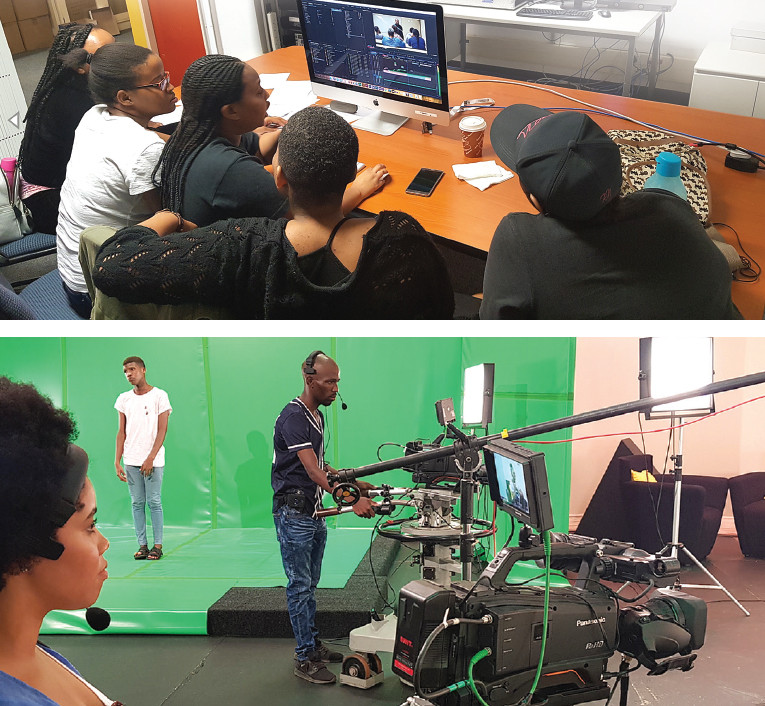 Top: A group of MCS honours students editing their final group project in UTEL's editing room. Above: Third-year MCS students performing multi-camera exercises in TV Studio 1.
Sound and Music Production
The sound studio is regularly used for voice-over work, narration, translations, and Voice-to-PowerPoint recordings. The studio is also used to teach sound engineering techniques and operations to media students.
Training and Teaching
For the second year, UTEL ran highly successful programmes for Media and Communication Studies (MCS) students. The third-year students completed a series of sessions in which they participated in multi-camera studio exercises and performed different roles in studio.
The honours students' 12-week programme included lectures and instruction, exercises and assignments before producing final videos that were screened to an invited audience. Progression to the next stage required each student to complete individual practical work and have participated in group work using the various UTEL facilities. UTEL staff supervised the use of editing stations and studios, and accompanied students on shoots, including recordings off-campus and after hours. Positive feedback was received from staff and students on the high quality of the programme.
Other UTEL activities included training sessions and seminars for departments, technical training on video downloads, and the addition of sign language to existing videos.
Project Outcomes
During student protests in 2019 and early 2020, UTEL was kept busy with studio bookings. A large number of academics sent videos of "missed lectures" to their students, resulting in UTEL staff working after hours to meet deadlines. More than 320 lectures were recorded, edited, and electronically delivered to students.
Many that used the facility, or had video materials produced by UTEL, expressed satisfaction with the process and quality of the work. Numerous positive comments express that users are very impressed with their final videos and compliment UTEL staff on their professionalism, courtesy, and patience. Comments indicate that the videos exceeded expectations and those who were nervous about using this medium remarked that, "the staff gently eased them into being comfortable to deliver their materials". Many academics return to do more work or encourage their colleagues to use the facility.
First-year Student Orientation on the Use of Learning Technologies
Each year, the University's ICS division works with first-year students during orientation to help them to familiarise themselves with the various ICS systems they will use throughout their studies. The 2020 orientation was held shortly before the lockdown and Colleges arranged face-to-face workshops and employed mentors to assist students.
In 2021, the University continued with remote teaching and learning and adopted multiple technologies. Colleges invited ICS to their online orientation to demonstrate the use of these technologies, including Moodle – the University's official learning management system, Zoom, and TEAMS Students were also assisted with installing and configuring GlobalProtect.
Colleges had to think of innovative ways to welcome first-year students. For example, the College of Agriculture, Engineering and Science (CAES) created interactive videos in English and isiZulu to provide important information to their students.
Technology Approaches to Mitigate COVID-19 Teaching and Learning Challenges
The global impact of COVID-19 has accelerated the use of Information Technologies for teaching and learning. Most institutions, including UKZN, had to adopt new robust technologies to meet the need for remote learning, which necessitated the development of educational technology training programmes for academics and students.
Staff and Student Training
During the period June 2019 – July 2020, training was offered on request. Professional services and academic staff required specific training for staff and students in their Colleges. Moodle, Kaltura, PowerPoint, VLC, and Handbrake documentation were developed to help staff acquire relevant skills to teach online. Short instructional videos and guides are available on the UTOP website http://utlo.ukzn.ac.za/utop
Academic computing consultants assisted with the online research seminar hosted by the University Capacity Development Project (UCDP)/Research Office and presented introductory sessions on NVivo and IBM® SPSS® for statistical analysis. They also provided after-class technical support to students.
Development of Teach and Learn Online Portals
In response to the need for alternative modes of teaching and learning as a result of the COVID-19 lockdown, online repositories of resources were developed to support academics and students in the transition to online. The UKZN Teach Online Portal (UTOP) and Learn Online Portal (ULOP) constitute the primary hub for online teaching and learning resources at the University. The development of the online portals has capacitated both staff and students with various tools and options to navigate the online teaching space. Since the official publication of the portals, there have recorded been over 100 000 views from staff and students.
Link to ULOP: http://utlo.ukzn.ac.za/ulop
Link to UTOP: http://utlo.ukzn.ac.za/utop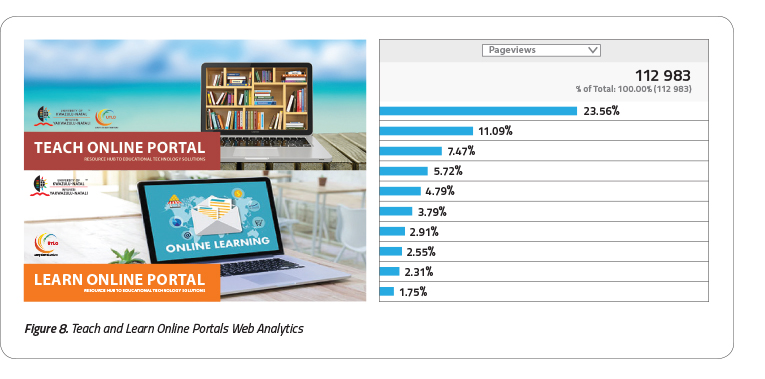 Data Provisioning
With the substantial number of staff and students working from home, ICS negotiated with different service providers for the most cost-effective agreements and zero-rating for data packages for students and staff. Staff received 4G wireless ZTE global router devices. All registered students and staff who use Vodacom, MTN, Cell C, and Telkom networks do not incur charges on the first 500MB accessed per day. Furthermore, students receive 10GB day and 20GB night data, while the staff is provided with 40GB MTN from the 22nd of each month. A router and a sim card were provided to all staff that qualified for data to work from home.
UKZN GlobalProtectTM VPN Client
GlobalProtectTM VPN Client allows users to remotely access local network resources via a secure and authenticated pathway by encrypting all network traffic and giving the user the local network's appearance when off-campus.
Staff and students were encouraged to install and authenticate via Client.
Educational Technologies at UKZN
Roll Out of the Online Teaching & Learning Solution – Kaltura
To enable the distribution of UKZN online teaching and learning videos, the UTLO and ICS implemented the Kaltura MediaSpace – a portal where all video materials are published. UTEL was instrumental in the selection, design, and setup of Kaltura. The project began with various technical activities and online staff training from April 2020 till May 2020.
Kaltura assists the development and dissemination of teaching and learning video materials for UKZN's Learning Management System (LMS). With over 8 900 videos uploaded to Moodle, users can now search and find video materials using proxy videos and key search words. The impressive analytics indicate Kaltura is likely to become UKZN's "YouTube".
While integrating Kaltura with Moodle, UTEL edited and migrated more than 350 videos. UTEL staff developed skills for uploading videos to Kaltura and Moodle, including tagging and metadata, converting videos to make them downloadable and adding closed captions. UTEL continues to provide technical support to academic staff engaged in online teaching.
Kaltura's live and on-demand video transforms teaching and learning in the lecture hall and beyond. Recorded content is invaluable for students in the remote learning context. Beyond capturing lectures, video learning can incorporate assignments, quizzes, recorded demonstrations, professor introductions, feedback, and flipped classrooms. These are a few of the numerous video resources available to make the classroom more personalised, accessible, and interactive. Integration with every major LMS makes videos a seamless part of the learning experience.
Kaltura Capture has screen capture capability that is shared with ease via various platforms. After a quick download and installation of the app, Kaltura Capture can record anything on the computer screen, along with audio and video.

Kaltura Capture has been used as an online learning tool to help academics record lectures and PowerPoint presentations. At the beginning of the lockdown, ICS consultants trained UKZN staff from the various Colleges to use Kaltura. This involved step-by-step guidance on recording a lecture and uploading lectures and presentations to a media gallery within Moodle for online learning.

Migration to Kaltura called for the creation of resources and training for staff. Super-users were identified in Colleges to provide first-level support for their colleagues. With the onset of the hard lockdown, consultants at Academic Computing provided technical support for Dr Upasana Singh's webinar series on online learning and assessment. Multiple sessions were held for interested School and Discipline staff. Staff representatives from each section were selected as Kaltura champions to train and help others with these tools.
ZOOM
Zoom is a cloud-based video or web conferencing service that can be used for one-on-one training sessions or group training, meetings, and lectures. It provides HD video and audio to facilitate a host of functions, such as recording and transcribing meetings; screen sharing; co-annotation for interactive team meetings; and streamlined calendar integration for scheduling support. Zoom is an indispensable tool for UKZN to keep in touch and continue its operations remotely. As members of UKZN, employees are allocated Zoom licenses for unlimited meetings for an unlimited time, with a maximum of 300 participants. Zoom has also been integrated into Moodle to help with online teaching and learning.
Microsoft Teams
With staff scattered over different geographic areas, a unified collaboration tool is essential. Microsoft Teams proved to be such a tool. Teams are part of the Office 365 suite that UKZN subscribes to. Personnel had to ensure that they had the software installed and online training sessions were set up to equip users. To supplement the training sessions, other training videos were uploaded to the UTLO website.
Chatbot
UKZN developed the Msizi Chatbot to enhance the student and visitor experience for 2021 online registration. Launched at the beginning of February, the Chatbot is a computer programme designed to mimic human conversation and provide predetermined answers by interpreting words given to it in the chat interface.
Named Msizi – isiZulu for "helper" – the bot was developed to assist those accessing the UKZN website. It is found in the bottom right-hand corner of the screen, appearing as a blue icon. The chatbot is customised to respond to frequently asked questions (FAQs) which are categorised as follows: Undergraduate student; postgraduate student; applications and information; student finance; student funding (scholarships, bursaries, and the National Student Financial Aid Scheme (NSFAS)); student residence; ICS student computing; international students and the Disability Support Unit. Created by the ICS division, Msizi Chatbot also has a "chat with us" feature, which enables students or visitors to have a live chat with a staff member.
Moodle – UKZN Learning Management System
As an alternative to traditional classroom learning, UKZN has developed an online learning strategy that enables classroom activities to be conducted on the internet through the Moodle LMS. All course materials are available for modules in different forms, including: PDF, PowerPoint slides, video recording, and Podcast. Discussion forums have been set up to engage asynchronously with lecturers and peers. Also available are course assignments in different forms, including short quizzes, time-based quizzes, research papers, and course announcements, which serve as a notice board to view important notices.
Moodle can be accessed at: https://learn2021.ukzn.ac.za
Analytics on the use of Educational Technology
Analytics on the use of teaching and learning technology illustrated here as part of technology-enhanced teaching and learning shows upward trends in the use of technology tools for assessment, communication, and monitoring and evaluation during the review period.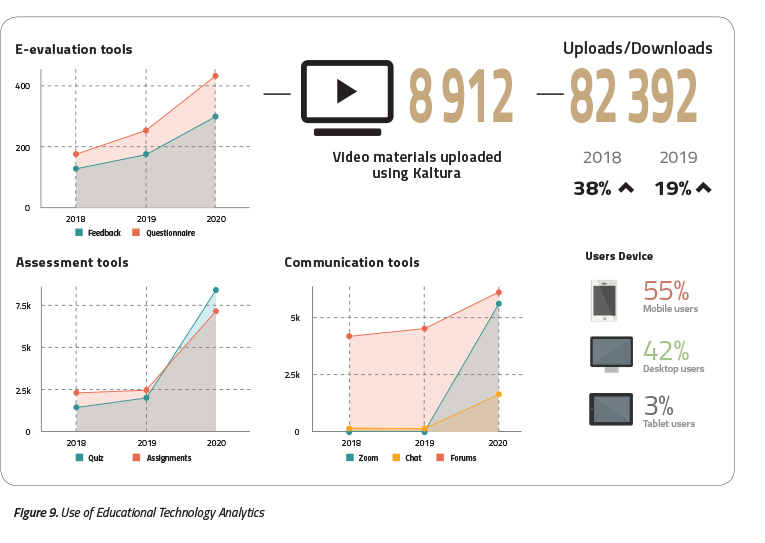 Staff Digital Literacy Training
In response to the need to provide alternative modes of teaching and learning as a result of the COVID-19 lockdown, UTLO in conjunction with ICS hosted a series of online teaching and learning training sessions via ZOOM attended by 1 462 staff members.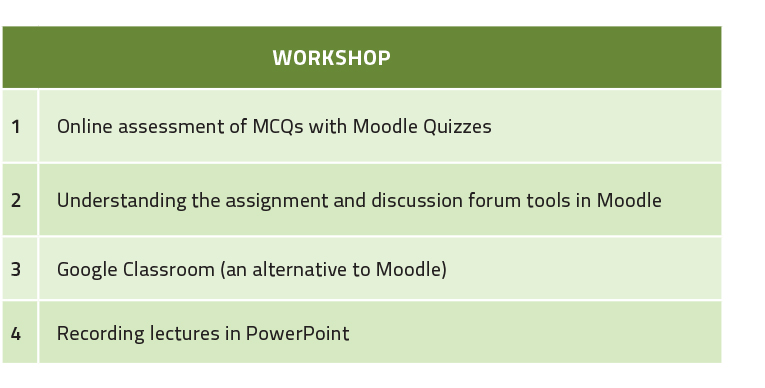 Table 1. Workshops for academic staff
Institutional Research Initiatives
Siyaphumela Activities
In 2020, UKZN was awarded a three-year grant by the Kresge Foundation. Known as Siyaphumelela, ("we succeed") the initiative is supported by the South African Institute for Distance Education (SAIDE), and informed by student success innovators across the world, such as the University Innovation Alliance and Achieving the Dream Network. Siyaphumelela reform efforts are undertaken by partner institutions, which include a number of the initial grantees (Universities of the Witwatersrand, Pretoria and Free State, Nelson Mandela University, and the Durban University of Technology). New partner institutions include UKZN and the Universities of the Western Cape and Cape Town. The network will continue to make use of data to develop tools for both their institutions and the higher education sector. It also documents lessons learnt to improve the student experience and success across the sector. The initiatives support the latest advances in technology and production, to identify cost-effective methods to deliver high-quality postsecondary education.
This grant is intended to support and strengthen UKZN's capacity to enhance student access, success and quality, through a variety of programmes, including building institutional research and analytics capacity; data coaching; and participation in regional, national and international learning collaborations.
Know Your Data Workshop Series
UKZN attended the Siyaphumelela Know your Data Workshop in October 2020. The three-day workshop involved a series of interrelated engagements that focused on the use of data for student success; data visualisation; and development of indicators for institutional researchers. On the final day, all the universities presented a report on what was learnt during the workshop and how their university is using data to inform student success decisions. UKZN illustrated how it processes and analyses continuous streams of data to enable the University to improve student academic performance. Its presentation also explored the Autoscholar functionalities.
The Dream Conference
UKZN sent delegates to the DREAM 2021 Conference, enabling them to engage with peers from across the country and internationally. Themes that emerged during the discussions included:
How do we enact the culture of professional learning?
Culturally relevant pedagogies: Cultivating social and emotional life skills and a sensing and thinking approach to pedagogy.
Creating an epistemic culture that values a set of knowledge frames which are interwoven into the cultural diversity of our society.
Evidence-based data approach to conceptualisation of initiatives and interventions.
Institutionalising a data analytics culture: Monitoring and support frameworks like UKZN's AMS can help close the loop and provide feedback towards improving interventions.
Key themes emerging from Dream 21 included:
Align curriculum with labour market needs: Higher education should meet the diverse needs of learners and employers in a skills-based economy.
Student-centered curriculum: Curriculum transformation through intelligent and intentional design – "we spend much time socialising students into university systems rather than building systems around students".
Student-centered institutional planning is crucial: We need to listen to students' voices – at all levels of the institution; provide support beyond entry-level to all levels of their learning trajectories. Students' knowledge and experiences can be used to help them become more conscious, critical and creative, rather than adopting a prescriptive or technical approach to value formation.
Students should be made aware of programmes that lead to social and economic mobility.
Access and Success Advisory Forum (ASAF)
The UTLO, which hosts the Siyaphumelela project and provides leadership, has assembled a team of academics, professional staff and student representatives to constitute the ASAF. This forum actively participates in decision-making related to the UKZN/Siyaphumelela programme and spearheads the implementation of specific projects at school and discipline/department levels. The ASAF promotes student success through the support of data analytics. The philosophy is one of data-driven decision-making and close monitoring of outcomes to ensure student success.
ASAF participants have held rigorous discussions on various concerns relating to student success at UKZN. Key points of the discussion revolved around building a culture of data for decision making; developing systems for student success; a curriculum that enhances student success; aligning the curriculum to promote valued graduate attributes; the role of students in promoting student success; and supporting postgraduate student success. Seven themes for institutional research emerged from these discussions:
Evaluating the efficiency and effectiveness of student support systems at UKZN
At-risk identification of students, courses and programmes
Aligning the curriculum to advance valued graduate attributes
Assessment policy and practices
Institutional efficiency – enhancing the student experience
Graduate attributes, readiness, tracking and alumni culture
Supporting postgraduate student success
AMS Institutional Report
2014 to 2020 First-Time Entering Cohort Study
This section reports on first-time entering (FTEN) undergraduate students from 2014 to 2020. The criteria for data analysis included: First-entrant undergraduate students enrolled in three- and four-year (including Medicine) undergraduate degree programmes, full-time, and contact and distance. Figure 10 shows that there was a significant decrease in FTEN undergraduate students, from 10949 in 2014 to 8086 in 2020.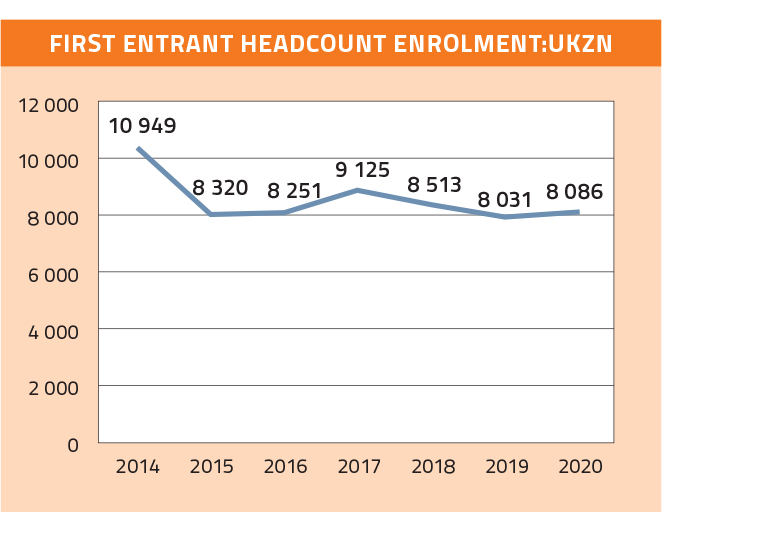 Figure 10. First entrant enrolment: 2014-2020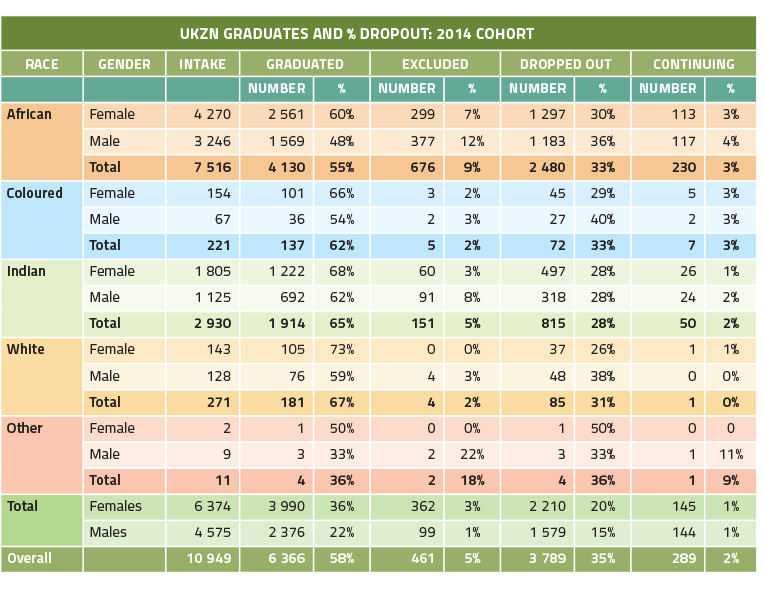 Table 2. UKZN Graduates and % dropout: 2014 Cohort
Table 2 reports on all FTEN UKZN undergraduate diploma and degree students, including contact and distance mode from 2014 to 2020. The number, race and gender of FTEN students are presented, followed by the combined overall graduates and dropouts for the cohorts covered. These include three-year diplomas and degrees, and four-year degrees as well as any undergraduate degrees such as in medicine and surgery, which normally take up to six years to complete.
An overall profile of the 2014 cohort admitted to undergraduate studies at UKZN shows that of the 10 949 students enrolled:
69% are African, 27% Indian, 2% White and 2% Coloured.
58% graduated, 35% dropped out, 5% were excluded and 2% are still enrolled.
6 374 are women and 4 575 men.
3 990 women graduated compared to 2 407 men.
20% of students who dropped out are women; while 15% are men. UKZN's graduation rate for the 2014 cohort tracked until 2020 appears to be low (58%). When this data is disaggregated by race, Africans (55%) are the worst affected. This can be explained by the steady increase in African enrolments.
Table 2 shows that of the 10 949 undergraduate students who enrolled at UKZN in 2014, 3 789 (or 35%) dropped out.
Summary of Findings 2020
The 2020 cohort admitted to undergraduate studies at UKZN shows that of the 8 086 new students enrolled for Bachelor's degrees:
85% are Africans, 12% are Indians, 1% Coloureds, and 1% Whites
60% are females
71% have between 25 and 34 matriculant points (See Table 2)
58% are from non-fee-paying schools (Quintiles 1, 2 and 3) (See Table 3)
78% speak isiZulu as their home language (See Table 4)
21% are enrolled in foundation provisioning (access) programmes
39% are in residence
44% have NSFAS funding
Disaggregating first entrant admissions to undergraduate degree programmes by matric points in 2020, shows that the bulk of students with:
Less than 30 matriculant points entered the Bachelor of Social Science,
Between 30 and 39 matriculant points entered Bachelor of Education
More than 40 matriculant points entered Bachelor of Medicine and Bachelor of Surgery
The race and gender demographics of first entrant enrolments by qualification shows that:
Women are most under-represented in Engineering, Agriculture, Computer Science, Land Surveying, Business Science, Architecture, Bachelor of Arts (Visual Arts), Bachelor of Theology and Bachelor of Social Science in Housing.

African students are under-represented in Engineering (Chemical, Computer and Mechanical), Speech and Language Therapy, Bachelor of Business Science in Finance, and Architectural Studies.
Figure 11. First entrant enrolment by matriculant points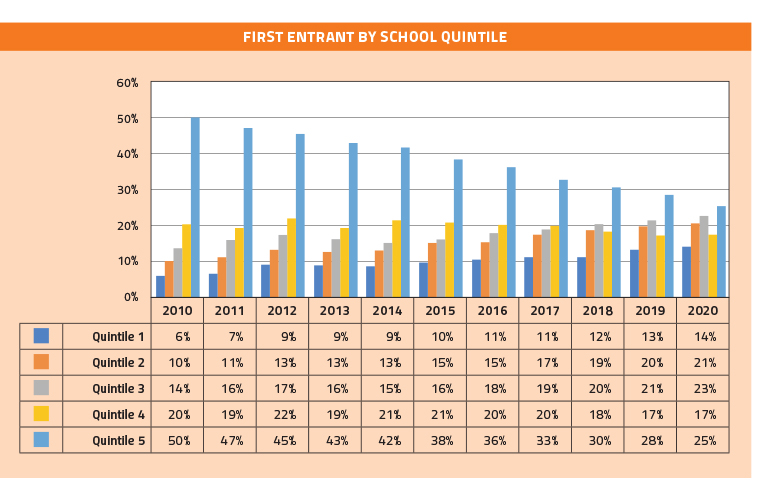 Figure 12. First entrant by school quintile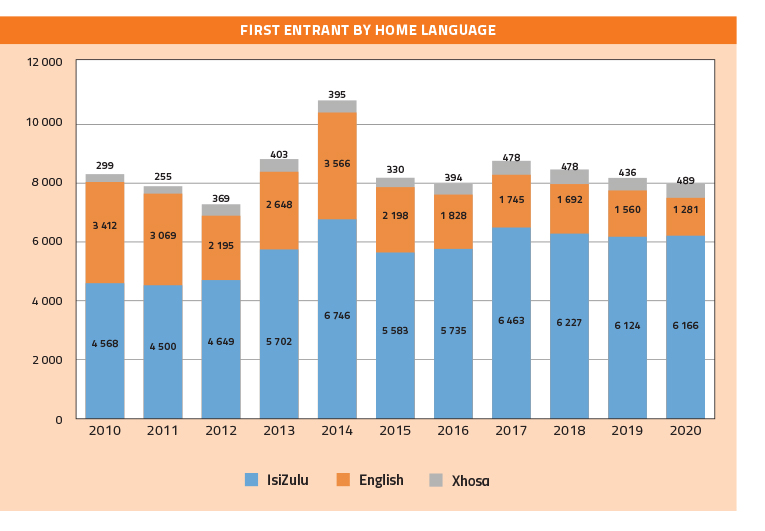 Figure 13. First entrant by home language